Hop on the steam engine, and let's take a trip through the fascinating world of steampunk!
BY VASILEIA FANARIOTI
SENIOR ONLINE CORRESPONDENT
Photos courtesy of The Burrow except where noted
Steampunk is a genre that combines history and science fiction, capturing the imagination of many through books, movies, and even in real-life businesses. Join us today as we delve into the whimsical world of steampunk design and learn from business owners who have successfully infused their establishments with this unique and captivating style. 
From Books to Bars: How Steampunk Transcends Genres
When you search for "steampunk" online, you'll uncover a genre of science fiction that takes history and spins it into a whimsical world of steam-powered marvels. But steampunk isn't just about books and movies; it's a unique blend of design and fashion that fuses the past with futuristic flair.
The world of hospitality is no exception to the steampunk ethos. Butcher & Banker in Vaasa, Finland, and Joben Bistro in Cluj-Napoca, Romania, are two prime examples of eateries in the steampunk realm. Both establishments feature steampunk-inspired interiors that have garnered acclaim for their unique designs. Butcher & Banker was even nominated for Best European Bar Interior at the 2018 Restaurant & Bar Design Awards for its use of bar furniture by Andy Thornton.
Another example of a steampunk-themed café is Truth Coffee Shop, located in Cape Town, South Africa. Designed by Haldane Martin, this coffee shop embraces a captivating steampunk theme. Inspired by the Victorian futuristic fantasy style, Haldane brilliantly incorporated elements reminiscent of espresso machines and coffee roasters into the overall aesthetic. The result is a visually stunning and immersive experience that transports visitors to another era.
Where Magic Meets Mechanics in the Heart of Chengdu
When Chang Sihong first discovered Truth Coffee Shop, he was immediately drawn to the steampunk elements, and knew they would be a perfect fit for his business. "Several years ago, both our designer and I, like many others, fell in love with Britain during the early 20th century—a world driven by steam," Chang remembers. "We fantasized about a world without electricity. At the same time, I stumbled upon Truth Coffee Shop in Cape Town. With these elements in mind, we made the decision to incorporate them into our own coffee shop. In 2020, we brought this vision to life with The Burrow."
The Burrow is a popular steampunk-themed coffee shop in Chengdu, China. Chang tells me that the name of the coffee shop is inspired by Ron's home in Harry Potter. From the outside it looks crooked, as if it may collapse at any time, but in fact it protects the family, like it was built by magic. The space inside is small but comfortable, and full of love and care—just like the Burrow where the Weasleys live.
Chang and his partner, a designer known as Panda, sought to infuse this house with the captivating essence of steampunk, blending mechanical elements, a metallic feel, and movable devices. The result is a uniquely cool and visually intriguing structure. Step inside The Burrow, and you'll immediately notice Chang Sihong's creativity on display. He dismantled a La Cimbali espresso machine at the bar and then personally reassembled the copper pipes in a transparent and exposed state, piquing curiosity about the coffee-making process.
A Lesson in Standing Out from the Competition
The Burrow does not have an extensive menu. Instead, they offer black coffee and milk coffee. As the volume of customers increased, efficiency and rhythm became paramount, so the team decided to keep it simple. The coffee selection is regularly updated to showcase different coffee-roasting flavors from around the world.
As for customer feedback, Chang tells me that locals and tourists alike are fascinated by the steampunk theme. Many take photos to capture the unique experience. The coffee shop has become a popular spot for social media enthusiasts due to its Instagram-worthy interior.
Steampunk-inspired businesses like The Burrow bring a sense of imagination and wonder to everyday experiences. They transport us back in time while also offering glimpses into an imagined future. This blend of design and creativity is what makes steampunk so appealing, both in fiction and reality. As Chang puts it, "No matter which style, as long as it is done well, it will never go out of style."
And with its unique aesthetic, The Burrow has certainly achieved that goal for its customers.
It's a good lesson for business owners: Embrace your creativity. Stay true to something you believe in, because that's what will truly set you apart from the competition. Whether it's through design, customer experience, or product offerings, differentiation is key in a crowded market. So why not take a page out of steampunk's book and let your imagination run wild? You never know where it might take you!
ABOUT THE AUTHOR
Vasileia Fanarioti (she/her) is a senior online correspondent for Barista Magazine and a freelance copywriter and editor with a primary focus on the coffee niche. She has also been a volunteer copywriter for the I'M NOT A BARISTA NPO, providing content to help educate people about baristas and their work. You can follow her adventures at thewanderingbean.net.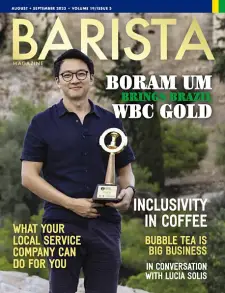 READ THE LATEST BARISTA MAGAZINE
Out now: It's the August + September 2023 issue of Barista Magazine, featuring Boram Um of Brazil on the cover. Read it for free with our digital edition. Get your Barista Magazine delivered; start a subscription today! Visit our online store to renew your subscription or order back issues.