These coffee shops in Guatemala City (and Antigua) brew coffee straight from the family farm.
BY MICHAELA TOMCHEK
SPECIAL TO BARISTA MAGAZINE ONLINE
Featured photo by Michaela Tomchek
Guatemala is the most populated of the seven countries of Central America, with Mayan ruins visible throughout the rich volcanic lands. Mexico lies to the north, El Salvador to the south. Belize hugs the country's eastern borders. This unique country is also home to beautiful indigenous communities, each with their own language and traditional dress.
Coffee in Guatemala
Thanks to its healthy volcanic soils and high altitudes, Guatemala is also a well-known coffee-producing country, with farms in Huehuetenango, Acatenango, Atitlán, Cobán, Antigua, San Marcos, and many other areas.
The bustling capital, Guatemala City, is notorious for its traffic. But it is filled with an eccentric collection of restaurants, local food, artisan markets, and excellent coffee shops—not to mention amazing tortillas!
Family Farm and Café United
I must express my love and appreciation for one coffee shop that I visited many years ago and recently ventured back to: 12 Onzas. This place exudes perfection—not only in their coffee, but in their aesthetic, staff, atmosphere, and design. The delicate white and blue shops operate at four locations throughout Guatemala, and proudly serve coffee from their family farm, Concepción Buena Vista. The farm is in San Martin Jilotepeque, Chimaltenango, and has been in the Solano family for over 100 years.
The Solano family, like most Guatemalan farmers, washed all of their coffee until 2019. That year, the El Sapito Project was initiated to experiment with newer processing methods. On top of that, a greenhouse was erected to grow other varieties and determine how they would fare in the farm and taste in the lab. After four generations, the family is still showing the world just how excellent Guatemalan coffee can be.
The Shops: 12 Onzas
The 12 Onzas shops are run by exceptional baristas, precise in their brewing and customer service. For three years straight, David Solano (fourth generation) was the National Barista Champion of Guatemala, competing at the World Barista Championship all over the globe. He, his brother Eddy, and their father, third-generation farmer Bernardo Solano, now send their beans to cafés around the world (including Nashville, Tenn.'s 8th & Roast and Dubai's Café Rider).
This refined organization—the marriage of a family farm with a chic collection of specialty cafés—is a must-visit during your time in Guatemala. The awesome logo, the calming blue hues, and the white and wood architecture all make this a spectacular café, one of my favorites I have visited in the world.
Venture into the City to Zone 4, 9, or 10 to sit and sip some of this excellent coffee (my favorite is the spot in Zone 10). You can climb to the balcony to sit on wooden swing chairs as you watch cars pass by. They also have a location in the old city of Antigua, so if you are wandering around the cobbled paths of this historic area, be sure to stop by for a delicious cup of coffee!
ABOUT THE AUTHOR
Michaela Tomchek (she/her) finds coffee an important part of life and the world. She is an appreciator of the crop, the producers, and the many cafés serving the beautiful beverage throughout the world. Currently, she writes about coffee, hoping to spread her joy to many others across the globe.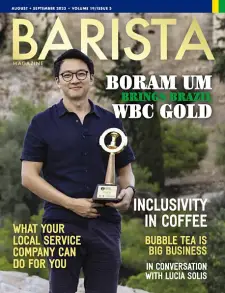 READ THE LATEST BARISTA MAGAZINE
Out now: It's the August + September 2023 issue of Barista Magazine, featuring Boram Um of Brazil on the cover. Read it for free with our digital edition. Get your Barista Magazine delivered; start a subscription today! Visit our online store to renew your subscription or order back issues.