Looking to make your business more earth-friendly? Here are some tips for running a more sustainable coffee shop.
BY TANYA NANETTI
SENIOR ONLINE CORRESPONDENT
Some time ago, while reading Terroir by Jem Challender (the first book published by Barista Hustle), I discovered with some discomfort that, along the entire coffee supply chain, the step most connected to climate change is the preparation process—this alone emits 45% of a coffee's total carbon footprint.
And let's imagine if we add to the coffee preparation the environmental effect of takeaway and other disposable plastic products, the daily food waste, the amount of milk used and wasted every day, and all the other little things that happen every day in a busy café.
This is why, as a barista, I decided to put together a list of tips that can help coffee shops be a little more sustainable.
Limit Plastic and Disposable Containers
One of the most hotly debated issues in pollution and sustainability concerns plastics, and in recent years many countries around the world have begun to impose a ban on all single-use plastics—plastics that, in the case of takeout items, have been replaced by other materials. But is this enough for hospitality businesses to become more sustainable? Customers can now no longer take away plastic takeout, but they can still carry disposable cups, straws, and lids made of different materials that, while more sustainable, are still wasteful.
Jeroen Keizer, co-owner of Rum Baba Coffee Roasters based in Amsterdam, explains how things are slowly changing at his coffee shop after the introduction of new European legislation.
"Last month, European single-use plastic legislation came into effect in the Netherlands: basically, by law we now have to charge our customers a fee for single-use plastic products. The suggested fee is 0.25 euros, but bars and other venues are free to choose the amount, as well as having to offer non-disposable alternatives," Jeroen shares.
"This means that we actively inform our customers that they have to pay a fee of 0.10 euros more than the standard price for to-go coffees, and that we have reusable cups for sale next to our ordering stations," he continues. "I think creating awareness is an important aspect of this campaign, to promote a change in mindset, and there are several ways to approach it. As a company, you can follow the campaign but at the same time 'hide,' or you can devote commitment and attention to it …. it's just our choice. And since we already have several processes here at Rum Baba to minimize single-use packaging, recycling and upcycling as much as possible, this new legislation is something we are happy to embrace and include."
When asked how customers are responding to the change, Jeroen says, "So far we have had no complaints, but there is still a lot of ignorance: as with other climate actions, people like the idea, but taking action is another thing. But I firmly believe that we just need to give it some time. After all, we believe that a reusable cup that looks good and is 'nice to use' can make a difference!"
And alongside takeaway items, it is worth mentioning another source of single-use plastic: plastic water bottles still sold in bars and restaurants. Fortunately, things are changing in this direction as well. Even in Europe, where until recently you wouldn't hear of it, many establishments now offer filtered water free of charge to customers. This is a perfect option for drinking at the café, but also for filling your own water bottle.
In addition, water brands are beginning to rethink their packaging, with new options such as cans made of 100% recycled aluminum (Right Water), containers composed of 92% plant-derived materials (Boxed Water), and more coming to market every day, giving cafés the choice to go greener while avoiding the misuse of plastic.
Promoting Black Coffee and Alternative Milk
Another topic on everyone's lips concerns milk, alternative milk, and the sustainability of a coffee order. Is alternative milk more sustainable than cow's milk? Is there a better coffee order not only related to milk but also to coffee processing?
Martin Lai is co-founder of Suedhang, a German roastery, coffee shop, and activism center based in Tübingen, which has recently become well known in the specialty-coffee world for its movement in favor of alternative milks. He shares his views on environmentally sustainable milks and coffee orders.
"At least in my bubble, asking 'why is alternative milk more sustainable than cow's milk?' is redundant. Everyone knows the problems associated with milk production, from forced calving every year to nitrates and antibiotics in groundwater, methane and C02 in the air, and much more," Martin says.
He continues, "If we want to think of a sustainable coffee order, here is a short sample list, sorted from morally and environmentally bad to good: cappuccino with cow's milk -> cappuccino with oat milk -> black coffee from washed-processed beans -> black coffee from dried-processed beans -> tap water. I consume cappuccinos with oat milk, others do not drink washed coffee on principle. From the standpoint of my less than ideal behavior (I drink a lot of coffee, and moreover often unreflective), I can't really (point) the moral finger."
Considering Sustainable Costs
"At the moment," Martin explains, "Suedhang does not use only alternative milks, but it is something we think about often. It is possible that in the future our company will become 100% vegan and thus no longer need cow's milk. What has prevented us from doing this so far is the higher VAT rate on beverages with milk alternatives and the concern of losing too many customers (I estimate up to 30% of our current customer base). Also, I follow a vegan diet, while (my business partner) Robin does not, and that's OK. We have different paths behind us, our principles are the same, but the weighting is different in some cases."
Taxing alternative milks at a higher VAT (value-added tax) rate than dairy products still happens in many countries, forcing cafés to charge more for alternative milks.
Martin with Suedhang is taking legal action on milk taxation; in Germany, alternative products have a steep 19% rate versus 7% for dairy products.
"Customers should be free to choose whether to drink a flat white with oat milk or cow's milk, and the decision is free if the two alternatives have the same cost," Martin says. "Otherwise, the ecologically and morally more sensible option is only viable for rich green hipsters."
Avoiding Food and Milk Waste
Any coffee bar is faced with the problem of excessive waste, especially with food and milk/alternative milk steamed in excessive quantities.
Fortunately, milk waste can be curtailed quite easily: just by measuring the size of cups and the volume of drinks, baristas can learn to steam a near-perfect amount of milk for each order.
Avoiding excessive food waste may be more difficult. The larger the café menu, the higher the chance of wasting more products at the end of each workday, from pastries to ready-made sandwiches.
Fortunately, there are many ways to "dispose" of these products in a smart and sustainable way. Donating them to a local charity that helps the homeless population is one option. Another is putting them on sale at discounted prices on apps such as Too Good To Go, which was created with the very purpose of reducing food waste.
Choose Wisely
Finally, even small, everyday choices can help a coffee shop be more sustainable. Buying smart, sustainable equipment while setting up the café can avoid lighting the space during the sunniest hours of the day. Buying vegetables from local farms limits carbon emissions. Sourcing coffee roasted in facilities close to your shop limits your carbon footprint as well.
ABOUT THE AUTHOR
Tanya Nanetti (she/her) is a specialty-coffee barista, a traveler, and a dreamer. When she's not behind the coffee machine (or visiting some hidden corner of the world), she's busy writing for Coffee Insurrection, a website about specialty coffee that she's creating along with her boyfriend.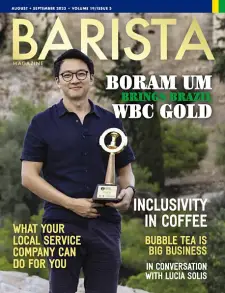 READ THE LATEST BARISTA MAGAZINE
Out now: It's the August + September 2023 issue of Barista Magazine, featuring Boram Um of Brazil on the cover. Read it for free with our digital edition. Get your Barista Magazine delivered; start a subscription today! Visit our online store to renew your subscription or order back issues.