Oxford, famous for one of Britain's best-known universities, is a vibrant city full of special cafés.  
BY TANYA NANETTI
SENIOR ONLINE CORRESPONDENT
Oxford and Cambridge are known—not only in the United Kingdom, but around the world—for their long-standing rivalry. Home to two of Britain's most prestigious universities, the two cities have a lot more in common: beautiful medieval buildings; a stunning riverfront where you can catch a glimpse of someone training for the next boat race; and a high concentration of libraries and bookstores. There are also many historic cafés that, in recent years, have often evolved into lively specialty-coffee shops. 
Oxford, slightly larger in population, is the perfect destination for a day trip from London: easily reached by train in just over an hour, the city welcomes visitors with its many attractions. From delightful cobblestone streets to amazing museums—and from an interesting tour of the ancient university to a cruise along the river that inspired Lewis Carroll to write Alice in Wonderland—there is plenty to do on a busy day exploring Oxford. But don't fear fatigue! Here's a list of specialty-coffee shops in Oxford where you can stop along the way to enjoy a delicious cup of coffee and recharge your batteries. 
From its origins in the cobblestone streets of Oxford City in 2009, Missing Bean has grown into the city's longest-running independent roastery and specialty-coffee shop. With five shops across the county, an online store, an expanding wholesale supply, and a bakery, Missing Bean's reputation locally and nationally is growing fast. 
If you have to pick just one location to visit, don't miss the coffee shop on Turl Street: This is the true home of Missing Bean, where owners Ori and Vicky began their journey into the world of specialty coffee. Don't forget, however, that with the new headquarters at the Roastery & Bakery in East Oxford (with its own coffee shop) and more stores springing up, Missing Bean's home and family are growing and are now ready to welcome you not only to downtown Oxford but also to the neighboring villages of Abingdon, Botley, and Banbury. 
Cowley Road is not only East Oxford's main shopping street, but also a street famous for its central role in Oxford's music scene, with a number of successful bands formed here in local venues. So it's not surprising that Mostro Coffee, one of the area's finest coffee shops, shares its space with Truck (Oxford's indie record store). Music is an important part of their ethos, and they have frequent in-store shows where local and non-local bands (including recently Skindred, Gaz Coombes, This Is the Kit, and Beth Orton) play on the small stage.
As for their coffee selection? Mostro uses a delicious roast from Origin Coffee (the Colombian Pathfinder) as their house espresso, along with rotating guests such as Outpost Coffee, Skylark Coffee, Manhattan Coffee Roasters, Ineffable Coffee, and Plot Roasting. In addition to coffee, Mostro serves cakes and pastries from Barefoot, as well as Swedish sandwiches and tartlets on the weekends.
With more than two centuries of history, Oxford's Covered Market is one of the city's most beloved spots. Colombia Coffee Roaster has a home among its many stalls.  
Hailing from a generation of Colombian coffee farmers, the founders of the Oxford coffee-roasting company created the company with the specific purpose of sharing coffee knowledge and offering a wide range of delicious coffees grown in their native Colombia. In just a few years, they have succeeded in creating a well-regarded business in the city. 
The venue inside the market, not to be missed, offers not only delicious filter and espresso-extracted coffees, but also wonderful cakes for the perfect break from a busy day of exploring.
Not in the center of Oxford but easily accessible by bus, Bruin has been serving Wheatley residents since 2019. The café, a pioneer of specialty coffee in this small village five miles east of Oxford, is led by the experienced Clair and Louis (partners in both business and life). They opened Bruin after years of experience in the hospitality world, having worked in cafés, coffee shops, and roasters in the U.K., Australia, and New Zealand.  
After years of only takeout, Bruin is currently expanding to have indoor seating, incorporating a kitchen for food preparation with a long bar, as well as a secluded laptop/work area for customers working remotely.
The house espresso, brewed daily, is a natural Brazilian that reveals hints of apricot, praline, and cashew in the cup. But they frequently switch their offerings, with guest roasters such as Plot, Manhattan, and Lost Sheep Coffee. 
ABOUT THE AUTHOR
Tanya Nanetti (she/her) is a specialty-coffee barista, a traveler, and a dreamer. When she's not behind the coffee machine (or visiting some hidden corner of the world), she's busy writing for Coffee Insurrection, a website about specialty coffee that she's creating along with her boyfriend.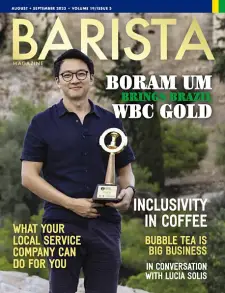 READ THE LATEST BARISTA MAGAZINE
Out now: It's the August + September 2023 issue of Barista Magazine, featuring Boram Um of Brazil on the cover. Read it for free with our digital edition. Get your Barista Magazine delivered; start a subscription today! Visit our online store to renew your subscription or order back issues.