Here's how to put your French press to good use in surprising and creative ways.
BY EMILY JOY MENESES
BARISTA MAGAZINE ONLINE
Featured photo by cafeconcetto via Unsplash
Got an old French press sitting around that you haven't touched in ages? With so many ways to brew a good cup, your old press may be gathering dust.
I believe in making the most out of everything you have. That's why I love using my French press to serve a variety of purposes. If you've been thinking about donating yours or putting it into storage, first check out these three surprising hacks.
Froth Milk
One of my favorite ways to use my French press is as a milk frother. If you want creamy, frothy milk but don't have access to a steaming wand or a milk frother, the French press is the perfect go-to. Plus, it's super simple—simply pour your desired amount of milk into your French press, place the lid on, and pump the top a few times until the milk reaches your desired texture. It works great with both cold and hot milk!
Another great way to use your French press? Make cold-brew coffee or tea—just steep your coffee grounds or tea leaves in your French press with cold water for a few hours; the amount of time you'll want to do it will vary depending on your measurements and how you want your beverage to taste. Then strain the liquid once it's steeped and ready.
My favorite single-serving cold-brew tea recipe is 1 tablespoon of tea leaves with 12 ounces of cold water in the French press. After I put it in the fridge for eight hours, the result is a really smooth cup of iced tea. To make single-serving cold brew in a French press, I like to use about 1.5 ounces of coarse coffee grounds with 8 ounces of cold water. I let it brew for about 12 hours overnight in the fridge so that it's ready by morning.
Play around with different ratios and varieties of tea and coffee to see what works for you!
Make Broth
Last but not least, the French press is also a great tool for making broth or adding aromatics to already-made broth or stock. As mentioned in this Bon Appetit article, many chefs swear by this method, citing it as a great way to infuse their broths with different herbs and flavors without getting the bitterness that sometimes comes from cooking something over direct heat.
To make a simple dashi broth, add one piece of kombu, one cup of bonito flakes, and about ¾ cup of dried, sliced shiitake mushrooms to a French press with four cups of boiling water. Let the mixture steep for about five to 10 minutes, then plunge the press and serve.
Press On
These are just three simple ways to breathe new life into your French press and start making it a vital part of your kitchen and coffee setup. If there's something in your home that you haven't used in awhile, don't throw it away just yet—try thinking of the device in new ways. You may be surprised at what ideas you come up with!
ABOUT THE AUTHOR
Emily Joy Meneses (she/they) is a writer and musician based in Los Angeles. Her hobbies include foraging, cortados, vintage synths, and connecting with her Filipino roots through music, art, food, and beverage.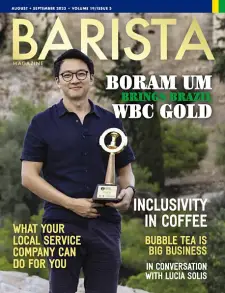 READ THE LATEST BARISTA MAGAZINE
Out now: It's the August + September 2023 issue of Barista Magazine, featuring Boram Um of Brazil on the cover. Read it for free with our digital edition. Get your Barista Magazine delivered; start a subscription today! Visit our online store to renew your subscription or order back issues.