We explore how energy-efficient air-purification solutions are helping keep the coffee-roasting process clean and sustainable
BY VASILEIA FANARIOTI
SENIOR ONLINE CORRESPONDENT
Photos courtesy of ReiCat
You may not have thought about this if you are not in the coffee-roasting business, but air purification is a key part of the process. To ensure that they comply with local pollution regulations, many roasters rely on afterburners or other air-purification solutions to filter out volatile organic compounds (VOCs), particulate matter, and other potentially harmful pollutants released into the atmosphere during the roasting process.
We reached out to ReiCat, a Germany-based manufacturer and supplier of air purification solutions, to gain further insight into how coffee roasters can maintain clean air quality while keeping their businesses running.
Why Air-Purification Solutions are Important
Roasting coffee is a complicated process involving chemical and physical changes caused by heat. This creates the flavor compounds we all enjoy in our coffee. Unfortunately, it also produces emissions such as carbon monoxide, volatile organic compounds, and particulate matter as byproducts.
Despite their dispersion in the atmosphere, these gasses may be harmful, and if not addressed, they will add to global warming by contributing to emissions. What's more, those living in the vicinity of these roasters are usually subjected to uncomfortable odors and smoke, which raises complaints.
Fortunately, advancements in waste air-purification systems mean there are now several solutions available to address this problem. One such solution is ReiCat's air-purification technology.
"We provide solutions for gas purification, waste gas purification, exhaust air purification, (and) gas recycling/gas recovery. So, you can say that we can serve the market in many areas—anything to clean the air and so make the world a bit cleaner," explains Bianca Herbert, ReiCat's marketing and sales specialist.
Exploring the Benefits of ReiCat Air Purification Solutions
ReiCat's air-purification solutions operate at a lower working temperature than conventional afterburners. Whereas traditional afterburners only work at temperatures ranging from 1112°F to 1292°F, ReiCat's solutions are effective at temperatures between 482°F and 716°F.
This has the benefit of reducing energy consumption while still providing effective conversion of harmful components, all without needing additional combustion in order to increase the temperature.
ReiCat provides a range of air-purification solutions to meet individual requirements, from the ReiCatino line with electrical power for eliminating smoke and bad smells, to the compact ReiCat Gourmet designed for smaller-scale roasters, to the industrial ReiCat solution that helps ensure compliance with legal regulations.
Bianca explains to me how the process works: "The exhaust air contaminated with organic impurities is led to the catalytic air purification system via pipe and an on-site blower."
She continues, "The exhaust air is—if necessary—heated to the necessary reaction temperature by means of an electric hot air blower (for ReiCatino models) or a gas burner (for ReiCat Gourmet and ReiCat industrial models). Through a reaction at the catalyst, all impurities responsible for smoke and odor are oxidized into harmless substances."
Because ReiCat air-purification solutions do not employ filtration systems, there is no need to remove any residue after each usage. Furthermore, a pre-filter is also present as an extra layer of protection.
Achieving Balance Between Sustainability and Performance
All in all, air-purification solutions are an important aspect to consider for any coffee roaster. They help ensure that the emissions created by the roasting process are properly treated. This also eliminates any potential health risks associated with smoke or odors.  
As technology continues to advance, these solutions are becoming more and more accessible for businesses of all sizes. With the right solution, coffee roasters can enjoy the best of both worlds—delicious coffee that is both flavorful and environmentally friendly.
ABOUT THE AUTHOR
Vasileia Fanarioti (she/her) is a senior online correspondent for Barista Magazine and a freelance copywriter and editor with a primary focus on the coffee niche. She has also been a volunteer copywriter for the I'M NOT A BARISTA NPO, providing content to help educate people about baristas and their work. You can follow her adventures at thewanderingbean.net.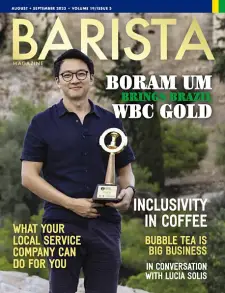 READ THE LATEST BARISTA MAGAZINE
Out now: It's the August + September 2023 issue of Barista Magazine, featuring Boram Um of Brazil on the cover. Read it for free with our digital edition. Get your Barista Magazine delivered; start a subscription today! Visit our online store to renew your subscription or order back issues.