We explore a handful of noteworthy cafés in Los Angeles' Koreatown neighborhood.
BY EMILY JOY MENESES
BARISTA MAGAZINE ONLINE
Featured photo by Emily Joy Meneses
One of the most special things about Los Angeles is its diversity. All throughout the City of Angels, you'll find no shortage of culture—and within just a few square miles is a plethora of vibrant neighborhoods to explore: Chinatown, Historic Filipinotown, Little Bangladesh, Little Ethiopia, and Koreatown, to name a few. Each of these corners of L.A. has its own unique food and beverage world, and today we're setting our sights on Los Angeles' Koreatown neighborhood and its ever-evolving specialty-coffee scene.
Here are a few of our favorite L.A. Koreatown coffee shops.
Nestled within a small plaza on Sixth Street, Yeems has been a neighborhood favorite since it opened its doors in 2021. Cozy and intimate, the café has a minimalistic menu that echoes its simplistic decor.
Standout items include the House Milk Tea and the Vienna Latte, which is topped with house-made sweet cream and cocoa powder. Another must-try is their strawberry matcha—a combination of ceremonial-grade matcha and house-made strawberry milk.
Who doesn't love the feeling of drinking coffee on a balcony? That feeling is exactly what Koreatown café Balcony has sought to re-create.
Located on Western—just a stone's throw from Yeems—Balcony is known for its cozy, plant-filled outdoor patio that's perfect for both solo work sessions and group coffee dates. The café has been serving Angelenos since 2016 and remains a local favorite to this day. Try their pistachio latte or a pourover to start.
When Sojung Kwon and Byoungok Koh first opened Document Coffee Bar in 2014, they initially intended for it to be an art studio—however, over time, the two decided that the space would also work as a coffee shop: a community space for locals to gather over their shared appreciation for both art and specialty coffee.
Today, the coffeehouse is known for regularly hosting music and art events, as well as their impressive selection of beverages—including a memorable pourover menu, featuring coffees from Dune Coffee, Ceremony Coffee, and other roasters. Document also offers a unique selection of tea, including wild persimmon leaf, lotus leaf, and hydrangea leaf tea.
Special Mentions
Other noteworthy Koreatown cafés to check out include Alfred, located in the lobby of The LINE Hotel, Cafe de Mama (try their jujube latte!), and, for tea lovers, Damo—one of the best places in town for ceremonial matcha.
In this neighborhood, there are dozens of establishments worth exploring. Every day, the list continues to grow—a reflection of Los Angeles' continually expanding passion for specialty coffee and tea.
ABOUT THE AUTHOR
Emily Joy Meneses (she/they) is a writer and musician based in Los Angeles. Her hobbies include foraging, cortados, vintage synths, and connecting with her Filipino roots through music, art, food, and beverage.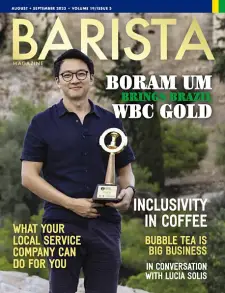 READ THE LATEST BARISTA MAGAZINE
Out now: The August + September 2023 issue of Barista Magazine featuring Boram Um of Brazil on the cover. Read it for free with our digital edition. Get your Barista Magazine delivered; start a subscription today! Visit our online store to renew your subscription or order back issues.