Are your eco-friendly practices making a difference? We explore more common greenwashing mistakes made in the coffee world and how to stay conscious of them.
BY EMILY JOY MENESES
BARISTA MAGAZINE ONLINE
Feature photo by Petr Sevcovic via Unsplash
Last week, we began our series "Common Greenwashing Mistakes and How to Avoid Them at Your Café." We explored how seemingly eco-friendly practices can unintentionally go awry, leading to greenwashing—instances where products and practices seem sustainable on the outside but actually have little impact on the environment (or worse, actually harm the environment).
Today, we'll delve into a few more common greenwashing mistakes that can happen at cafés and how to stay conscious of them.
Selling Loads of 'Eco-Friendly' Merch
Who doesn't love a good tote bag or reusable coffee mug? Using these items can be an effective way to reduce waste! But they're only effective if you are really getting a lot of use out of your product—and not buying a new tote bag or reusable mug every other week.
When it comes to your café, try putting less of an emphasis on selling "eco-friendly" merch like tote bags and reusable mugs. Put your focus more on the menu. Offer an incentive, like a discount or free pastry, for customers who come in using a reusable mug or bag they bought at your shop. Doing so will encourage them to come into your shop regularly and get lots of use out of their reusable products.
Not Sourcing Local Ingredients
One of the best things you can do for the environment: shop local! Locally produced ingredients don't have to travel as far to get to you. Working with them, instead of otherwise sustainable ingredients imported from far away, is a great way to help reduce greenhouse gas emissions. Plus, it's great for stimulating your local economy!
Before creating new recipes for your seasonal menus, visit your local farmers market and see what produce the vendors have on hand. Think of how you can incorporate those ingredients into your menu.
Throwing Out Old Products For 'Sustainable' Ones
Thinking of making the switch to compostable straws and cups? Before doing so, make sure you're using up all of your old items first! Even though the prospect of converting to new, eco-friendly options is exciting, it won't do the environment any good if you throw all of your unused items into the landfill—so use them up, and then make the switch. Also, you'll want to make sure that you're properly composting your compostable items—which we explored in part one of this series.
Making Too Many Changes at Once
When it comes to creating a sustainable, environmentally conscious café, it's important to take things slow—one step at a time. Implement one change at a time to make sure that what you're doing is effective and something that you can maintain over a long period of time. And don't forget to be gentle with yourself during the process—the fact that you're trying to be better every day is already worth celebrating!
ABOUT THE AUTHOR
Emily Joy Meneses (she/they) is a writer and musician based in Los Angeles. Her hobbies include foraging, cortados, vintage synths, and connecting with her Filipino roots through music, art, food, and beverage.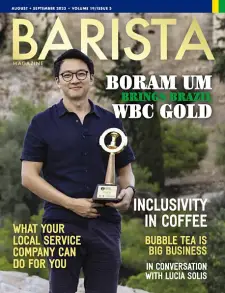 READ THE LATEST BARISTA MAGAZINE
Out now: The August + September 2023 issue of Barista Magazine featuring Boram Um of Brazil on the cover. Read it for free with our digital edition. Get your Barista Magazine delivered; start a subscription today! Visit our online store to renew your subscription or order back issues.