We talk to Verité's senior director, Quinn Kepes, about strategies for minimizing labor risks in the coffee sector.
BY VASILEIA FANARIOTI
SENIOR ONLINE CORRESPONDENT
Last June, amid the vibrant atmosphere of the World of Coffee in Athens, Greece, I had the privilege of attending a lecture titled "Farm Labor Due Diligence Approaches that Benefit Workers, Farmers, and Coffee Companies." The session was led by Quinn Kepes from Verité and Miguel Zamora from Rural Voices. They shared research on labor issues in Latin America, and strategies for developing and implementing human rights due diligence systems.
Attendees and panelists jumped into an interesting discussion about Verité's COFFEE Project, funded by the U.S. Department of Labor, which aims at creating cost-effective strategies for minimizing labor risks. Eager to learn more about this issue, I contacted Quinn to get some answers. Here's what he had to say!
Could you tell us a bit about your background and experience in the field of labor and human rights?
I began working in human rights in Guatemala when I was 19, as the supervisor of international election observers for the 2003 presidential elections. I subsequently got a graduate degree in human rights in Guatemala and worked with an indigenous rights organization. After returning from Guatemala, I worked on a program providing free educational services to the children of migrant farmworkers in the United States, and began interning at Verité when I was 24.
Since then, I have conducted research and overseen projects on forced labor, human trafficking, labor migration, recruitment, child labor, and other topics across over 25 countries, mostly in Latin America. I started working in the coffee sector in 2008, when I oversaw and conducted a four-year U.S. Department of Labor-funded research project on indicators of forced labor in the Guatemalan coffee sector.
What inspired you to work in the field of human rights and labor?
At 14, when I had to do a year of homeschooling after getting into some trouble at school, I did a yearlong research project. For the first time, I was able to decide to focus on any topic, which forced me to think about what truly interested and inspired me. I ultimately chose to focus on forced disappearances in Mexico. This helped me to determine my path forward, and I currently research similar topics. I started as an intern at Verité over 17 years ago, and while labor issues weren't originally my main area of interest, I have come to see that labor intersects with a number of other human rights issues, and that a lack of decent working conditions and wages is a root cause of a range of issues, such as poverty, inequality, migration, and insecurity.
What motivated Verité to create the COFFEE Project, and what are its main objectives?
I had conducted and overseen research on labor conditions in the coffee sector in Guatemala, Mexico, Colombia, Brazil, and Uganda, which revealed a high level of risk of forced labor, child labor, and wage and hour violations in many of these countries. We found that although there are a number of emerging regulatory requirements and increased consumer and buyer expectations related to labor conditions, there was a lack of concrete, usable resources to guide coffee producers and other supply chain actors on steps that they can take to effectively identify, address, and prevent labor issues in the coffee sector.
The Cooperation On Fair, Free, Equitable Employment (COFFEE) Project, which is funded through a $2.5 million grant from the U.S. Department of Labor, is composed of three elements:
A set of 17 open-source tools for coffee producers, traders, and roasters;
Ten open-source online training modules, along with in-person and online trainings and awareness-raising sessions; and
Pilot projects in Brazil, Colombia, and Mexico to field test the tools and training modules, as well as innovative, cost-effective approaches to improving labor conditions.
Could you walk us through some of the key stages of research for the COFFEE Project, such as identifying stakeholders, gathering data, etc.?
While field research on labor conditions was not conducted as part of the COFFEE Project itself, the project greatly benefited from field research previously carried out by Verité and its Latin America research partner, REACH (Research-Education-Action-Change), in Brazil, Colombia, and Mexico, funded by a combination of Keurig Dr Pepper, Jacob Douwe Egberts, Nestlé, and Catholic Relief Services. This research helped us to determine the most prominent labor issues and their root causes, such as unscrupulous recruitment practices and piece-rate payment practices, which became the focus of the pilot projects in Brazil and Colombia, respectively.
With funding from Keurig Dr Pepper, Verité conducted research on living wages and living incomes in the Colombia coffee sector, in collaboration with the Global Living Wage Coalition and the Anker Research Institute. The findings were essential to informing the approach of the Colombia pilot project. The report, which was recently published, sets a living wage benchmark to strive for in promoting increased earnings for workers while emphasizing that this cannot happen at the expense of smallholder farmers, who must also earn at least a living income in order to survive.
The COFFEE Project undertook a great deal of stakeholder engagement throughout the project. Verité carried out research and stakeholder consultations internationally, and in Brazil, Colombia, and Mexico, in order to determine which tools were needed to address labor risks in the Latin American coffee sector, and to determine the areas of focus of the pilot projects. Verité subsequently led an in-depth stakeholder dialogue and review process.
Through a Participatory Tool Development Process, Verité solicited feedback from a variety of stakeholders with expertise and interest in the Latin American coffee sector—with a focus on the tools' end-users—thereby improving the potential for widespread adoption. This included a technical review by an expert committee, composed of civil society and industry association representatives, and validation by an advisory council, composed of coffee companies, certifiers, and other intended end-users.
What challenges did you face during the implementation of this project?
The COVID-19 pandemic presented a huge challenge for project implementation. This was especially true for the pilot projects in Brazil and Colombia, which required on-the-ground interaction with coffee farmers and workers. In the case of Mexico, we were able to pivot from in-person to online trainings, which proved to be a scalable approach to training coffee brands, traders, and large-scale producers with internet access, but does not work well for smallholders with lower levels of internet access and literacy.
Due to budgetary limitations, we had to choose an audience for the tools—as large estates and smallholder farms require very different tools, in terms of both content and design. We ultimately determined that the largest number of workers would be reached by targeting larger farms, which hire much larger numbers of workers and have a greater capacity to improve working conditions.
However, we received input from stakeholders during project implementation that indicates that there is a significant need and interest in these tools on the part of smallholder farmers. Fortunately, the COFFEE Project recently received a cost extension from the U.S. Department of Labor, allowing us to expand the project to include the creation of tools specifically adapted to the needs of smallholder farmers, as well as the dissemination of such tools to smallholder farmers in Brazil.
Stay tuned for the second part of this interview, which will be published soon!
ABOUT THE AUTHOR
Vasileia Fanarioti (she/her) is a senior online correspondent for Barista Magazine and a freelance copywriter and editor with a primary focus on the coffee niche. She has also been a volunteer copywriter for the I'M NOT A BARISTA NPO, providing content to help educate people about baristas and their work. You can follow her adventures at thewanderingbean.net.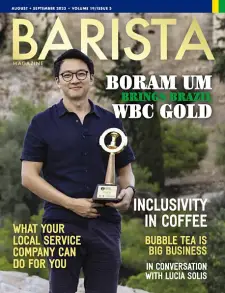 READ THE LATEST BARISTA MAGAZINE
Out now: It's the August + September 2023 issue of Barista Magazine, featuring Boram Um of Brazil on the cover. Read it for free with our digital edition. Get your Barista Magazine delivered; start a subscription today! Visit our online store to renew your subscription or order back issues.