You don't need tons of fancy gear to make café-quality beverages at home—here are a few easy hacks to elevate your daily cup.
BY EMILY JOY MENESES
BARISTA MAGAZINE ONLINE
Want to make café-quality drinks at home without breaking the bank? Lucky for you, there are tons of ways to make great beverages at home without expensive equipment! Whether your go-to daily bev is a simple black coffee, an iced latte, or something sweetened with ingredients like vanilla or chocolate, there are a few tips and tricks you can keep in mind to make your at-home cup a great one. Read on to learn more!
It's All in the Bean
First things first: Pay attention to what kind of coffee you're using. The type of coffee beans you should get will vary depending on what type of beverage you're looking to make and what your unique taste preferences are.
If you're making something where the flavor of the coffee itself will be highlighted—a simple black coffee, a cortado, or an espresso—you'll want high-quality coffee beans. On the other hand, if your go-to beverage is something layered with more milk and sugar, where the coffee flavor isn't as central—like an iced vanilla latte or a blended coffee drink—you can place less emphasis on the kind of coffee you're using. In that case, focus more on the other aspects of your beverage.
You'll also want to keep in mind what type of roast and flavor profiles you prefer. If you like bold, smoky flavors, you'll want to veer away from lighter roasts or coffee from countries known to produce coffees that are more fruity and acidic. On the other hand, if you like your coffee to taste more mellow and bright, light to medium roasts from countries like Ethiopia or Kenya will be more suited to you.
Exploring Methods of Making Coffee
If you want to make a beverage that's like an espresso-based drink but don't have an espresso machine, a great option is a Moka pot. This stovetop brewing device makes coffee by passing boiling water pressurized by steam through your coffee grounds.
Moka pot coffee is commonly referred to as the "middle ground" between drip coffee and espresso. It isn't exactly espresso (modern espresso machines brew coffee using about eight to 10 bars of pressure, while Moka pots use about 1.5 bars). But it's the closest you'll get to espresso without actually owning an espresso machine.
It's also really easy to make cold brew at home with minimal gear—one of the most popular methods of brewing cold brew is with a cheesecloth, or you can even make it in a French press.
There are also tons of fun recipes you can try using instant coffee—like dalgona coffee! Even with limited gear, there are so many ways to craft delicious and unique beverages at home.
What About Milk?
One of the most important parts of a great café beverage is the milk. But you don't need an espresso machine with a steaming wand to get frothy. Milk frothing wands are a great option, or you can froth your milk using a French press: Simply pour the milk into the press and pump the handle a few times until the milk foams up to the texture that you want it to be. It's even possible to pour latte art with milk that's been frothed with a French press!
Have Fun with New Flavors
Another great way to dress up your at-home beverages is with homemade ingredients. Imagine: a latte with house-made vanilla syrup, or a drink topped with homemade cold foam. Adding special touches like those to your drinks is an easy way to take your bev to the next level.
When it comes to making café-quality drinks, don't let yourself be limited. There are tons of easy, budget-friendly ways to elevate your everyday cup.
ABOUT THE AUTHOR
Emily Joy Meneses (she/they) is a writer and musician based in Los Angeles. Her hobbies include foraging, cortados, vintage synths, and connecting with her Filipino roots through music, art, food, and beverage.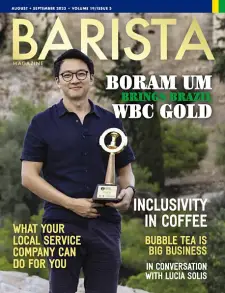 READ THE LATEST BARISTA MAGAZINE
Out now: It's the August + September 2023 issue of Barista Magazine, featuring Boram Um of Brazil on the cover. Read it for free with our digital edition. Get your Barista Magazine delivered; start a subscription today! Visit our online store to renew your subscription or order back issues.